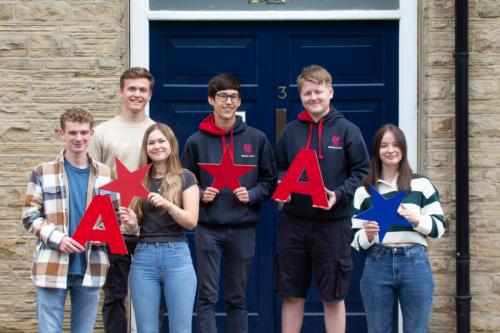 They should be proud of what they have achieved" – Birkdale Head's message as pandemic-impacted students receive A Level results
Birkdale School is celebrating their students' A Level success in results from the first year since 2019 when grades have been determined by external examinations.
The School achieved a 100% pass rate overall
40% of all grades were at the highest A* or A with one in five pupils achieved a set of results with every grade at the highest A* or A
70% achieved results which were all at grades A* – B
80% of students have gained places to study at their first choice of university.
At Birkdale, we are always proud to build firm foundations whatever our students aspire to.
Among this year's notable achievements across the Sixth Form:
Four students gained places at either Oxford or Cambridge: Terrell, Veterinary Medicine (Downing College, Cambridge); Tom, Ancient and Modern History (University College, Oxford); Jonathan, Maths (St. Johns College, Cambridge) and Christian, Law (St. Johns, Oxford).
Eight students will study a variety of Engineering disciplines, including: Mechanical; Electrical; Automotive and Civil.
Four students – Alhasan, Khizr, Eshaan and Zayan – will go on to study Medicine.
Our thriving performing arts programme has also shown significant achievements – Joel will study acting; Callum, Theatre; Maddie, French and Theatre (2023); Luke will study Music at Leeds Conservatoire and Esme will study Film (2023).
We also have a number of students who have chosen design-based courses including Architecture, Interior Architecture and Graphic Design.
Peter Harris, Birkdale School Head, said:
"On behalf of our entire Birkdale family, I want to send my congratulations to our students on their results, especially as they have been among the worst impacted by the pandemic which changed all our worlds.
"Having their GCSE examinations cancelled in 2020, and spending much of the first six months of their A Level studies working from home, the challenges have been immense – but so too has their perseverance, determination and resilience. Whatever the grades received today, they should be proud of what they have achieved.
"As Ofqual and UCAS said earlier this week, it is not meaningful to compare this year's results to those of 12 months ago, so it is important young people – and those in the world beyond – understand that, and celebrate the successes in what has been a period of turmoil."
News from around the school